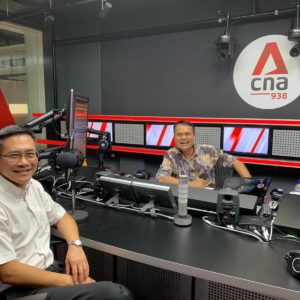 On 8 July 2019 Dr Yue from The Orthopedic Centre (TOC) appeared on a radio interview with CNA938 Health Matters (renamed from Body & Soul) where he explained what is scoliosis. However, the focus is only on children so he went on to talk about the occurrence in them.
Firstly he said idiopathic scoliosis is the most common form scoliosis and to put parents mind at ease it should be noted that carrying a heavy school bag will not cause scoliosis but will lead to other back problems in future.
In addition, he mentioned that puberty is the stage of common occurrence thus the forward bending test is usually carried out before that in schools. Dr Yue continued by stating that only serious condition will lead to the child experiencing discomforts, it is worth noting that physical activities are not going to cause scoliosis. Furthermore, he also shared what are easy warning signs to look out for, contrary to common misconception the gait of walking does not offer any telltale signs.
During the second part of the interview, he highlighted in sense scoliosis is hereditary. And research studies have shown that scoliosis is higher in occurrence for girls and ladies but it is not pure single gene type transmission. In addition, idiopathic scoliosis is usually not severe.
Moreover, Dr Yue covered on the management of scoliosis which starts with initial diagnosis, followed by treatment that is based on severity and stage of life you are in, and the curvature can't be more than 45 degrees, if it is less than 25 degrees it must be monitor, if it is more than 25 degrees bracing would be needed. He also mentioned what is the common age for boys and girls to develop scoliosis.
In the closing of the interview, he explained what is bracing, an operation is advised when the curvature is over 45 degrees and he went on further to elaborate on how the operation is being carried out. For the age group of 12-18, the rate of recovery is very fast able to return to school after a month but must be cautious during the first 6months after that life can be back to normal. He said that repeated operation is very rare and bracing can prevent operation. Although idiopathic scoliosis can't be prevented, physical activities and exercises are encouraged.