Our Executive Officers, together with our Executive Directors, are responsible for our day-to-day management and operations as well as the implementation and execution of our operational policies. Information on the business and working experience of our Executive Officers are set out below: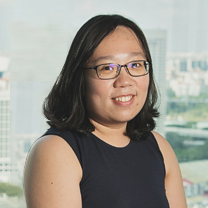 Ms Kwek Jin Mei Violet
Chief Operating Officer
Ms Kwek Jin Mei Violet is the Group's COO who has been with the Group since its inception in 2013. She is a registered nurse who occasionally assists the medical specialists in complex surgeries.
Prior to joining the Group, Ms Violet Kwek worked as a senior staff nurse at SGH. Her dedication to her profession and her patients has been recognised in several awards which include, inter alia, 100% work attendance for numerous years, the Excellent Service (Silver) Award and the Singapore Health Quality Service Award (Silver).
Ms Violet Kwek graduated from the Faculty of Nursing and Midwifery, University of Sydney with a Bachelor of Nursing in 2013 and is a registered nurse under the Singapore Nursing Board. Prior to that, she pursued a Diploma in Nursing as well as an Advanced Diploma in Nursing (Perioperative) at the Nanyang Polytechnic.